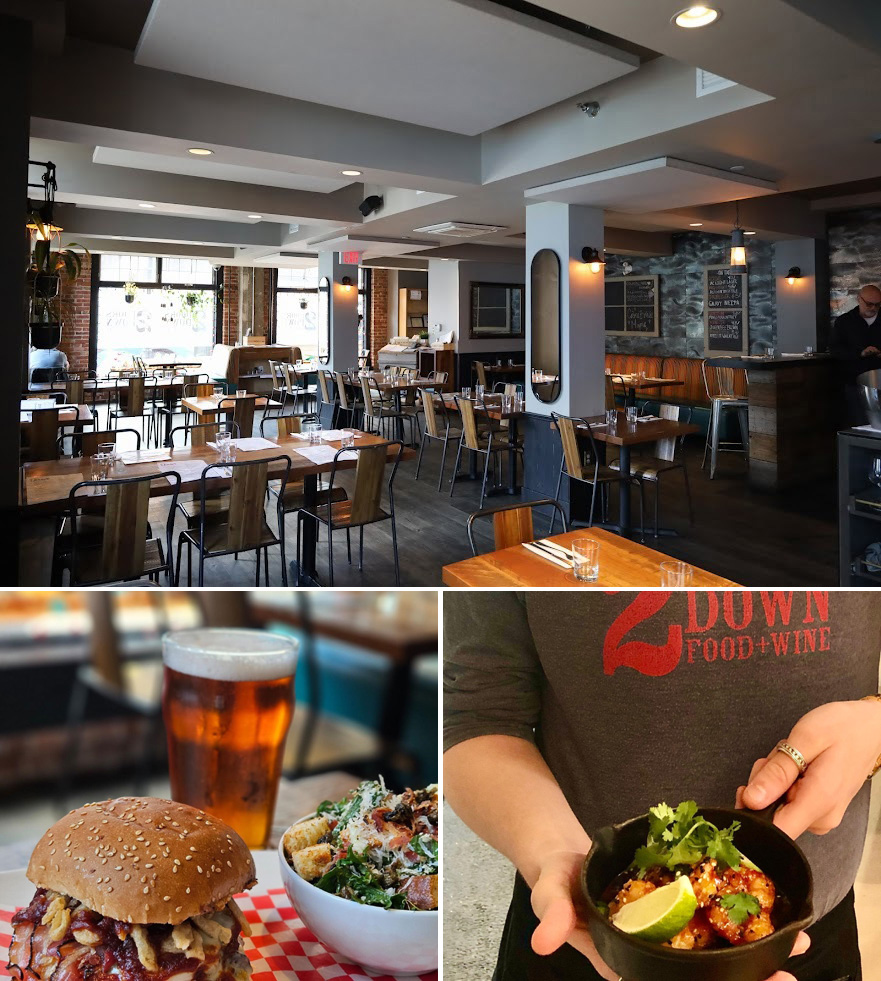 At 2 Doors Down, we believe the perfect dining experience goes beyond just delicious food.
That's why we have mastered the art of creating a relaxed atmosphere combined with attentive service. Our team is dedicated to ensuring that every guest feels right at home, making your visit a memorable one.
Established in 2013 in Halifax and later expanded to Dartmouth in 2019, we have quickly earned the reputation of being "your neighbourhood restaurant in the hearts of downtown Halifax & Dartmouth Crossing".
The 2 Doors Down
Difference
Passion and expertise
At 2 Doors Down, we are committed to bringing an authentic Nova Scotian dining experience to our guests. Our passion for local cuisine drives us to work closely with farmers and suppliers, creating a menu that showcases the unique flavours of Nova Scotia. From the freshest seafood to the sweetest berries, our ingredients are chosen with care to ensure the most authentic dining experience possible.
Only freshest ingredients
What sets us apart is our unwavering commitment to using only the freshest ingredients.
Locally sourced, internationally inspired
We work closely with local farmers and suppliers to ensure that every ingredient we use is of the highest quality. From farm to table, we strive to create a unique dining experience that honours the flavours and traditions of Nova Scotia.
BOOK YOUR TABLE
Dine with us
Reserve your table now
Raise Your Glass to Fresh Libations, Local Brews, and Creative Cocktails
Immerse yourself in the vibrant bar experience at 2 Doors Down, where our exceptional mixologist, Katrina Roberts, takes the lead in curating an unforgettable beverage program.
Step into a world of libation mastery, where classic cocktails are elevated with a creative twist, and local craft beers flow from our taps, all contributing to the fun and casual character of our restaurant.
Planning a gathering of friends and family or organizing an important corporate reception?
Discover the perfect venue for your private event at Walter's Snack Bar, adjacent to our Halifax location on Barrington Street.
With the capacity to accommodate sit-down dinners for up to 26 guests or standing cocktail receptions for up to 60, Walter's Bar offers a flexible and inviting setting for your event. Immerse yourself in the dynamic atmosphere as you and your guests enjoy the privacy and exclusivity of our dedicated space.
Looking for an intimate and relaxing bar and shareable dish experience? Check out the latest addition to the 2 Doors Down family at Walter's Snack Bar
1533 Barrington Street
Halifax NS,
Canada
1533 Barrington Street, Halifax,
Nova Scotia B3J 1Z4
Hours
4pm-9pm (Sun - Tues)
11:30am-9pm (Wed - Thurs)
11:30am-10pm (Friday)
4pm-10pm (Saturday)

Lunch
11:30am-4pm (Wed – Friday)
Dinner
4pm-9pm (Sun - Thurs)
4pm-10pm (Fri - Sat)
149 Hector Gate Dartmouth,
Nova Scotia B3B 0C1
Hours
11:30pm-9pm (Daily)
Lunch
11:30am-4pm (Daily)
Dinner
4pm-9pm (Daily)